MRI4 Feeder Protection (MRI4-2A0AAA)
The MRI4 is a protection relay which uses the latest Dual-Core-Processor Technology to provide precise and reliable protective functions and is very easy to operate. The MRI4 provides a number of three phase protection elements to safeguard against overcurrent, short-circuit and earth fault, all with inverse time (INV) and definite time (DEFT) tripping characteristics.
The MRI4 is also ideal for the protection of isolated, resonant, resistive and solidly earthed neutral systems. It is designed to be used in both radial networks and single fed open ring main systems. It can also serve as backup protection for differential protection systems on generators, transformers, bus bars and electrical lines. For overhead line protection the MRI4 is also available with an optional auto reclosing function.
The protection functions of the MRI4 have been adapted to comply with the requirements of the VDE-AR-N-4110:2018.
Features
Wide range power supply: 24 … 270 VDC / 48 … 230 VAC

CT measurement always with 1 A and 5 A

Plausibility verification intelligence

Optimized functional overview by hiding unused functions, parameter and assignments

On-board testing without removing the wiring 
Applications
Interconnection of renewable energies (DER – distributed energy resources) to the public grid.

Over- / Undervoltage protection.

Protection of High, Medium and Low Voltage feeders against thermal damages by overload or short circuit currents.

Protection of High, Medium and Low Voltage feeders against overvoltage (insulation damage) and undervoltage.

Auto reclosure option to fix short duration faults (like bird flying through overhead lines, ice on lines, lightning's hitting overhead lines, wind caused arcing by on overhead lines.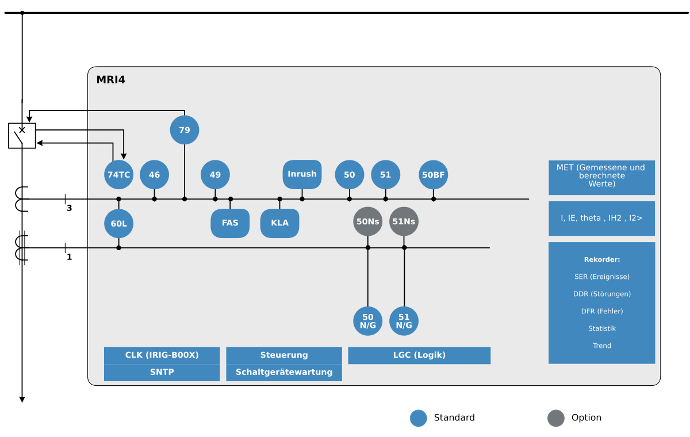 Downloads
Specification

Name
Open

DOK-FLY-MRI4-2D.pdf

Open

DOK-FLY-MRI4-2E.pdf

Open

Manual

Name
Open

MRI4-3.7-DE-MAN_C.pdf

Open

MRI4-3.7-EN-MAN_C.pdf

Open