MRA4 Directional Feeder Protection
The MRA4 is a high precision and reliable protection and control relay. The intuitive setting concept with plausibility test enables reliable and time optimized configuration of the extensive protection function to a variety of applications such as incoming or outgoing feeder protection, network protection and generator protection.

In fact, the MRA4 is our interconnection and mains decoupling expert.
The implemented switchgear management guaranties an efficient and safe control and supervision.
The device is a bench mark in flexibility and usability and offers various communication options. The hardware is designed for all nominal values in combination with protection and control functionality.
The parameterizing and analyzing software Smart view is usable for each HighPROTEC device and free of charge.
Features
Wide range power supply: 24 … 270 VDC / 48 … 230 VAC

VT measurement from 0 V up to 800 VAC (300 VAC for some order options)

CT measurement always with 1 A and 5 A

Plausibility verification intelligence

Optimized functional overview by hiding unused functions, parameter and assignments

On-board testing without removing the wiring



Applications
Interconnection of renewable energies (DER – distributed energy resources) to the public grid.

Over- / Undervoltage protection.

Protection of High, Medium and Low Voltage feeders against thermal damages by overload or short circuit currents.

Protection of High, Medium and Low Voltage feeders against overvoltage (insulation damage) and undervoltage.

Frequency based protection option, examples:

Over-/Underfrequency supervision

Load shedding by ROCOF

Auto reclosure option to fix short duration faults (like bird flying through overhead lines, ice on lines, lightning's hitting overhead lines, wind caused arcing by on overhead lines.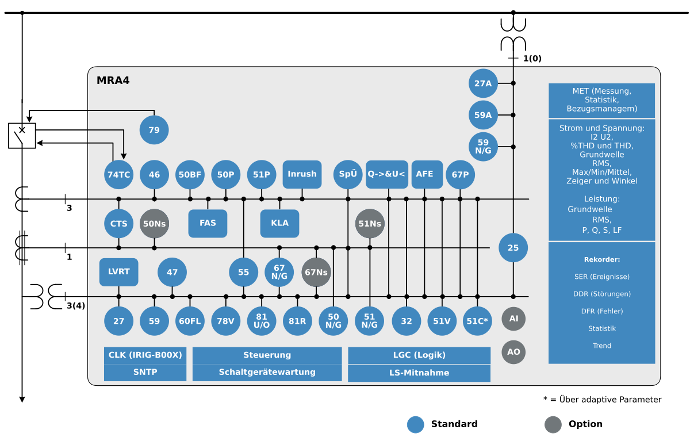 Downloads
Specification

Name
Open

Housing Door Cut-Out

Open

highPROTEC Overview

Open

Product Specification

Open

Dimensions Panel Mount

Open

Other Protection Devices

Open

Manual

Name
Open

Technical Manual V. 1

Open

Technical Manual V. 2

Open

Wiring Diagram

Open

Approval

Name
Open

Compliance

Open