MRMV4-2 highPROTEC Series
MRMV4 Motor protection

The MRMV4 is a protection relay which uses the latest Dual-Core-Processor Technology to provide precise and reliable protective functions. Also it is very easy to operate.
The MRMV4 provides all necessary functions to protect low and medium voltage motors at all power levels.
The protection functions are based on current and voltage measurement and supervise all thermal conditions, motor start sequence, stall and locked rotor, undercurrent and incomplete sequence.
Overcurrent functions and earth fault functions are also available as power protection, frequency and voltage elements.
The motor operation can be monitored by statistic and trend recorders.
The protection functions of the MRMV4 have been adapted to comply with the requirements of the VDE-AR-N-4110:2018.
Features
Wide range power supply: 24 … 270 VDC / 48 … 230 VAC

VT measurement from 0 V up to 800 VAC

CT measurement always with 1 A and 5 A

Plausibility verification intelligence

Optimized functional overview by hiding unused functions, parameter and assignments

On-board testing without removing the wiring
Applications
Start Cycle Supervision

Overload

Jam / Locked Rotor

Underload

Unbalanced Load

Number of Starts, Counters,…

Keeping motor load under the Thermal Damage Curve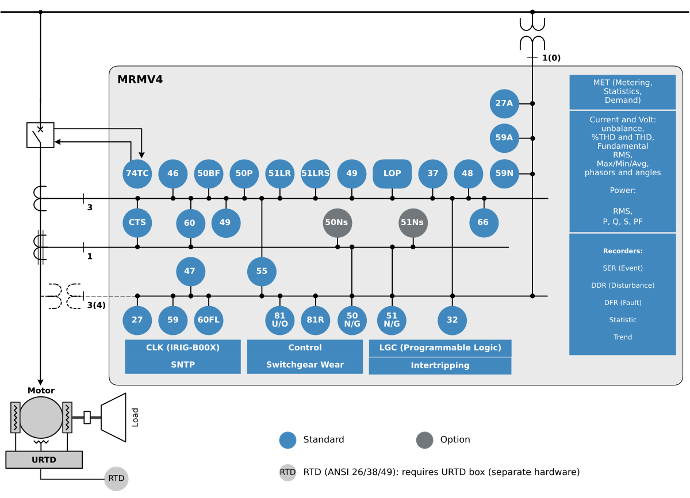 Downloads
Specification

Name
Open

DOK-FLY-MRMV4-2D.pdf

Open

DOK-FLY-MRMV4-2E.pdf

Open

Manuals

Name
Open

MRMV4-3.7-DE-MAN_C.pdf

Open

MRMV4-3.7-EN-MAN_C.pdf

Open