- 1-phase / 2-wire voltage measurement --- analog and/or discrete biasing signals - 24VDC or wide range power supply
additionally:
- 3-phase / 4-wire
- 1-phase / 2-wire additionally:
- 2 sets of switchable parameter set.

- 1-phase / 2-wire additionally:
- analog active and reactive load sharing lines,
- generator protection.
SPMD - 2
Synchronizers for AC Gen-Sets
The SPM-D2 is a microprocessor-based synchronizers designed for use on two or three phase AC generators equipped with Woodward or other compatible speed controls and automatic voltage regulators. 
The SPM-D2 synchronizer provides automatic frequency, phase and voltage matching using either analog or discrete output bias signals.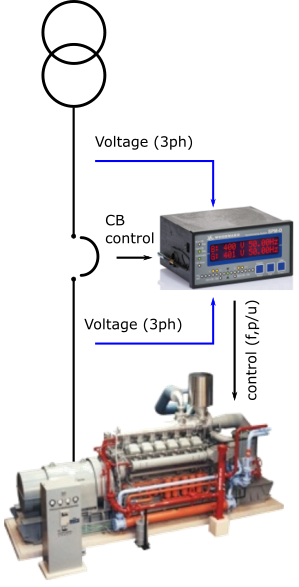 Downloads
Specification

Name
Open

SPM-D2-10 Series - Product Specification

Open

SPM-D2-11 Series - Product Specification

Open

SPM-D2 Series - Comparison with Old and New Model

Open

Manual

Name
Open

SPM-D2-10 Series - Technical Manual

Open

SPM-D2-10B-PSY5 Series - Technical Manual

Open

SPM-D2-10-YB Series - Technical Manual

Open

SPM-D2-11 Series - Technical Manual

Open